Explain Pain Applications: clinical discussions online
United States
July 6, 2020, 6:00 pm - 9:00 pm
Course Host: Fran Ammirato
Online course times:
Session 1: Monday, July 6: 6:00 – 9:00pm PDT
Session 2: Monday, July 13: 6:00 – 9:00pm PDT
Description
Explain Pain Applications: Clinical discussions is a new course offered as an extension to our online EP course.  The focus of the course will be to explore concepts covered in Explain Pain (EP), applied to our real world clinical settings.
The course will include reflections on our clinical reasoning for past, present and future patients/clients with ongoing pain states.   The emphasis will be on both individual and group interactions with patients/clients.  This will include discussions on determining appropriate target concepts, metaphors, and narratives for pain education, designing the delivery plan (timing, sequencing, mode, approach, level of language), experiential components, self-reflection, plans to revisit concepts, and patient assessment of learning.
This course will use a variety of learning strategies including group discussion, some short didactic lectures, experiential activities, practice and self-reflection.
Pre-requisites
You must have completed a NOI:  Explain Pain course in the last 2 years.
Pre-reading:
The Explain Pain Second Edition eBook | Print Book
Other related reading: Moseley GL & Butler DS (2015) Fifteen years of Explaining Pain: the past, the present and future, J Pain 16, 803-13.
This course is open to:
Health professionals working with patients or clients in acute and chronic pain and stress states.
Objectives
We will:
Explore the application of EP concepts for individual and groups of patients/clients with ongoing pain states.
Practice designing individualized EP curriculum for a patient/client or group, including integration with other aspects of rehabilitation.
Identify options for both didactic and experiential learning in developing a plan of care that includes EP.
Explore EP metaphors and narratives and the clinical reasoning process for targeted delivery.
Reflect on experiences delivering EP to patients/clients.
At the end of the course, you will have:
A variety of approaches to teaching the same EP target concept including both didactic and experiential approaches.
A collection of therapeutic narratives and metaphors to use help patients better understand their pain experience.
An awareness of your preferences, tendencies, strengths, areas for growth and apprehensions about applying EP in your clinical practice.
Identified opportunities to further engage in EP in your clinical practice.
Course Enquiry
Explain Pain Applications: clinical discussions online in on
Contact Course Host
---
Instructors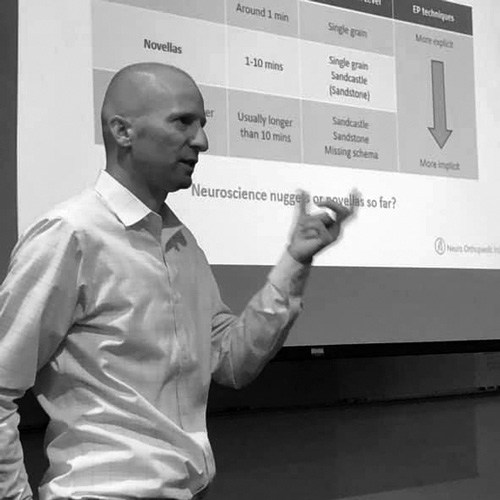 Benjamin Boyd PT, DPTSc, OCS
Language: English, Region: United States of America
Courses: Graded Motor Imagery, EP Online 2020, Explain Pain Applications: clinical discussions, Explain Pain, Mobilisation of the Neuroimmune System
Ben Boyd
Ben is currently an Associate Professor at Samuel Merritt University in Oakland, California, where he primarily teaches in the Musculoskeletal Patient/Client Management and Capstone course series. He has been teaching courses on peripheral nervous system anatomy, biomechanics, clinical evaluation and intervention since 2004 and he joined the NOI US teaching faculty in 2013.
Ben originally graduated from the joint program at the University of California, San Francisco and San Francisco State University (UCSF/SFSU) with a Masters of Science in Physical Therapy in 2002, returning in 2008 to earn his Doctor of Physical Therapy Science degree. He has worked as an outpatient Physical Therapist in multiple practice settings within the San Francisco Bay Area, seeing patients with a variety of neuromusculoskeletal complaints.  He is particularly interested in ongoing, persistent pain.  He received certification as an Orthopaedic Clinical Specialist through the American Physical Therapy Association in 2008. 
Ben's research involves examination of the peripheral nervous system and intervention strategies for neuropathic pain, including the effects of Diabetes Mellitus on the mechanosensitivity of the nervous system and the impact on movement.  His most recent research endeavour is leading a team exploring the influence of breast cancer treatments on the mechanosensitivity of the nervous system as well as alterations in body image and perception.
Ben grew up in the East Bay and continues to enjoy the rich diversity of cultures, foods, events, and outdoor recreational activities that the Bay Area has to offer.
"Great speaker, very knowledgeable about the course material and evidence-based on other areas. Was able to answer participants questions well."
"Excellent, knowledgeable, experienced instructor who is very approachable and thoughtful when answering questions in the class. Great job!"
"Ben was a fantastic presenter. He was very personable and approachable, answering questions in a helpful and discussion based manner."
"Ben is an excellent clinical educator. Really appreciated watching him work with the group and pitching things to various levels for the different participants. Great to see adult learning in action"
NOI Group
Address
Neuro Orthopaedic Institute
19 North Street, Adelaide City West
South Australia 5000 Australia
ABN 61 064 209 981
Email
noi@noigroup.com
Phone
+61 (0)8 8211 6388