Bodily Relearning, Vancouver
800 Robson Street Vancouver, BC V6E 1A7 Canada
April 13, 2024 @ 8:00 am - April 14, 2024 @ 5:00 pm
Course Host: AMP HEALTHCARE
Face to Face Course
To express your interest in attending this course, hit the contact button below to receive further course details from your course host, including how to pay and register your place. Please note that an enquiry does not confirm your place on the course.
Description
Description
Bodily Relearning is an all-new course offered by Noigroup based on and supported by the Bodily Relearning book  by author, educator, and physical therapist Benjamin Boyd, PT, DPTSc .
In this interactive course, we will explore how to help those in pain gain insight, knowledge, and understanding about how bodily protection systems operate and how to regain some control over these protection responses, including pain.  We will investigate the use of movement exploration and reflection to help reset bodily protection responses.
Additionally, we will explore other concurrent strategies, such as targeted neurodynamic exercises and mindfulness practices, to help reset bodily protection levels and increase engagement in meaningful life activities. With the skills emphasised in this course, we aim to drive bodily relearning by facilitating bioplastic adaptations to reset bodily protection responses towards less protection, less pain, and more freedom of movement.
Prerequisites
Prerequisites
There are no specific prerequisites to attending this course, although a basic level of peripheral nerve anatomy and physiology is assumed.
Recommended materials/resources:
The book Bodily Relearning: Reteaching bodily protection responses through insight and movement exploration, 2023.
Target audience:
This course is open to health professionals and movement-based practitioners working within the medical and healthcare communities to help people suffering from pain.
Objectives
Objectives
This course will include discussion-based activities, didactic lectures, movement exploration, exercise and neurodynamic labs, mindfulness practice, and clinical case discussions.  This course is offered live, in-person, and over two days.
---
Instructors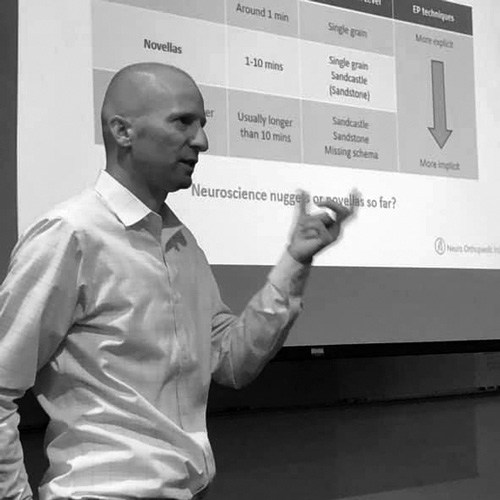 Benjamin Boyd PT, DPTSc
Language: English, Region: United States of America
Courses: Bodily Relearning, 2024, EP Online 2020, Bodily Relearning, Graded Motor Imagery 1 day, US, Explain Pain, US, EP & GMI Combo – US, Graded Motor Imagery 2-Day – AU, Explain Pain Application: clinical discussions on CRPS – US, GMI Online 1 day, Mobilisation of the Neuroimmune System, Explain Pain, Explain Pain Applications: clinical discussions US
Ben Boyd



'Bodily Relearning' by Ben Boyd – Reteaching bodily protection responses through insight and movement exploration.

A total package for the clinician to help patients understand their body and pain. Available to order now (First print run begins shipping out during the last week in May, 2023 – 50% sold in pre-sale so don't miss out! )
Ben works as a Physical Therapist at Stanford ValleyCare in Livermore, California where he specializes in persistent pain conditions, working with both individual clients and group classes.  He has worked as an outpatient Physical Therapist in multiple practice settings within the San Francisco Bay Area, seeing patients with a variety of neuromusculoskeletal complaints.  He received certification as an Orthopaedic Clinical Specialist through the American Physical Therapy Association in 2008.
In addition, Ben was an Associate Professor at Samuel Merritt University in Oakland, California for 12 years, where he taught in their entry-level Physical Therapy Program.  He continues to work as an Adjunct Associate Professor for this program, teaching on a part-time basis.  Ben has been teaching courses on peripheral nervous system anatomy, biomechanics, clinical evaluation, and intervention since 2004 and he joined the NOI US teaching faculty in 2013.
Ben originally graduated from the joint program at the University of California, San Francisco and San Francisco State University (UCSF/SFSU) with a Masters of Science in Physical Therapy in 2002, returning in 2008 to earn his Doctor of Physical Therapy Science degree.
Ben has been involved in research examining neuropathic pain conditions, including the mechanosensitivity of the nervous system in people with Diabetes Mellitus and in women post breast cancer treatment.
Ben grew up in the East Bay and continues to enjoy the rich diversity of cultures, foods, events, and outdoor recreational activities that the Bay Area has to offer.
"Great speaker, very knowledgeable about the course material and evidence-based on other areas. Was able to answer participants questions well."
"Excellent, knowledgeable, experienced instructor who is very approachable and thoughtful when answering questions in the class. Great job!"
"Ben was a fantastic presenter. He was very personable and approachable, answering questions in a helpful and discussion based manner."
"Ben is an excellent clinical educator. Really appreciated watching him work with the group and pitching things to various levels for the different participants. Great to see adult learning in action"
Noigroup
Address
Neuro Orthopaedic Institute (Australasia) Pty Ltd
19 North Street
Adelaide SA 5000
Australia
ABN 61 064 209 981
Email
noi@noigroup.com
Phone
+61 (0)8 8211 6388