Graded Motor Imagery, Vancouver
Vancouver, BC Canada
December 5, 2020 - December 6, 2020
To express your interest in attending this course, hit the contact button below to receive further course details from your course host, including how to pay and register your place. Please note that an enquiry does not confirm your place on the course.
Note: This course has been rescheduled from 30 May, 2020.
Description
Graded Motor Imagery course trailer
This course is open health professionals involved in pain and stress management.
Graded Motor Imagery (GMI) is an evidence based, graded, brain training programme which accesses the virtual body in the brain. It is useful for a wide range of chronic pain states where the central nervous system may be up-regulated, including osteoarthritis, Complex Regional Pain Syndrome, phantom pains and 'non-specific' spinal pains. It gives new hope to many people in pain.
GMI involves the use of Apps, Flashcards, motor imagery, mirrors and Explain Pain education. In this course, participants are given the confidence and skills to use GMI immediately and to effectively integrate it into their current practice.
The course is structured around practical sessions supported by discussion of clinical applications.
Pre-requisites
The NOI Explain Pain course provides the educational underpinnings for the GMI course and as such is a prerequisite.
Pre-reading:
The Graded Motor Imagery Handbook
Information and resources provided at gradedmotorimagery.com
Hardware requirement:
Bring an iPhone, iPad or Android device to the course with one or more of the Recognise Apps downloaded onto it.
Objectives
At the end of the course, participants will:
Understand the process of GMI and where it fits into an overall treatment programme
be able to identify appropriate patients for GMI from both clinical presentations and research outcomes
have knowledge of the scientific underpinnings of GMI
have practical skills in using the three components of GMI
be able to confidently translate learnt GMI skills to effective treatment applications
---
Instructors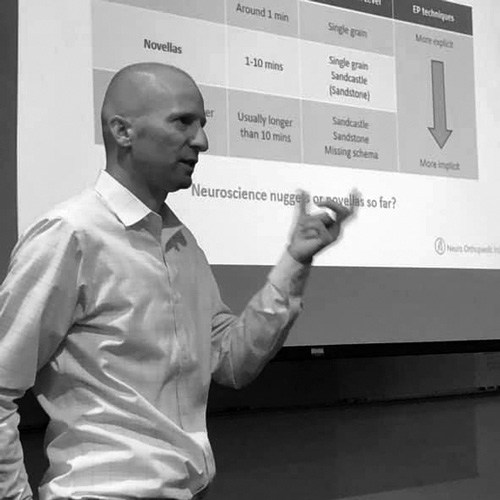 Benjamin Boyd PT, DPTSc, OCS
Language: English, Region: United States of America
Courses: Graded Motor Imagery, EP Online 2020, Explain Pain Applications: clinical discussions, Explain Pain, Mobilisation of the Neuroimmune System
Ben Boyd
Ben is currently an Associate Professor at Samuel Merritt University in Oakland, California, where he primarily teaches in the Musculoskeletal Patient/Client Management and Capstone course series. He has been teaching courses on peripheral nervous system anatomy, biomechanics, clinical evaluation and intervention since 2004 and he joined the NOI US teaching faculty in 2013.
Ben originally graduated from the joint program at the University of California, San Francisco and San Francisco State University (UCSF/SFSU) with a Masters of Science in Physical Therapy in 2002, returning in 2008 to earn his Doctor of Physical Therapy Science degree. He has worked as an outpatient Physical Therapist in multiple practice settings within the San Francisco Bay Area, seeing patients with a variety of neuromusculoskeletal complaints.  He is particularly interested in ongoing, persistent pain.  He received certification as an Orthopaedic Clinical Specialist through the American Physical Therapy Association in 2008. 
Ben's research involves examination of the peripheral nervous system and intervention strategies for neuropathic pain, including the effects of Diabetes Mellitus on the mechanosensitivity of the nervous system and the impact on movement.  His most recent research endeavour is leading a team exploring the influence of breast cancer treatments on the mechanosensitivity of the nervous system as well as alterations in body image and perception.
Ben grew up in the East Bay and continues to enjoy the rich diversity of cultures, foods, events, and outdoor recreational activities that the Bay Area has to offer.
"Great speaker, very knowledgeable about the course material and evidence-based on other areas. Was able to answer participants questions well."
"Excellent, knowledgeable, experienced instructor who is very approachable and thoughtful when answering questions in the class. Great job!"
"Ben was a fantastic presenter. He was very personable and approachable, answering questions in a helpful and discussion based manner."
"Ben is an excellent clinical educator. Really appreciated watching him work with the group and pitching things to various levels for the different participants. Great to see adult learning in action"
NOI Group
Address
Neuro Orthopaedic Institute
19 North Street, Adelaide City West
South Australia 5000 Australia
ABN 61 064 209 981
Email
noi@noigroup.com
Phone
+61 (0)8 8211 6388